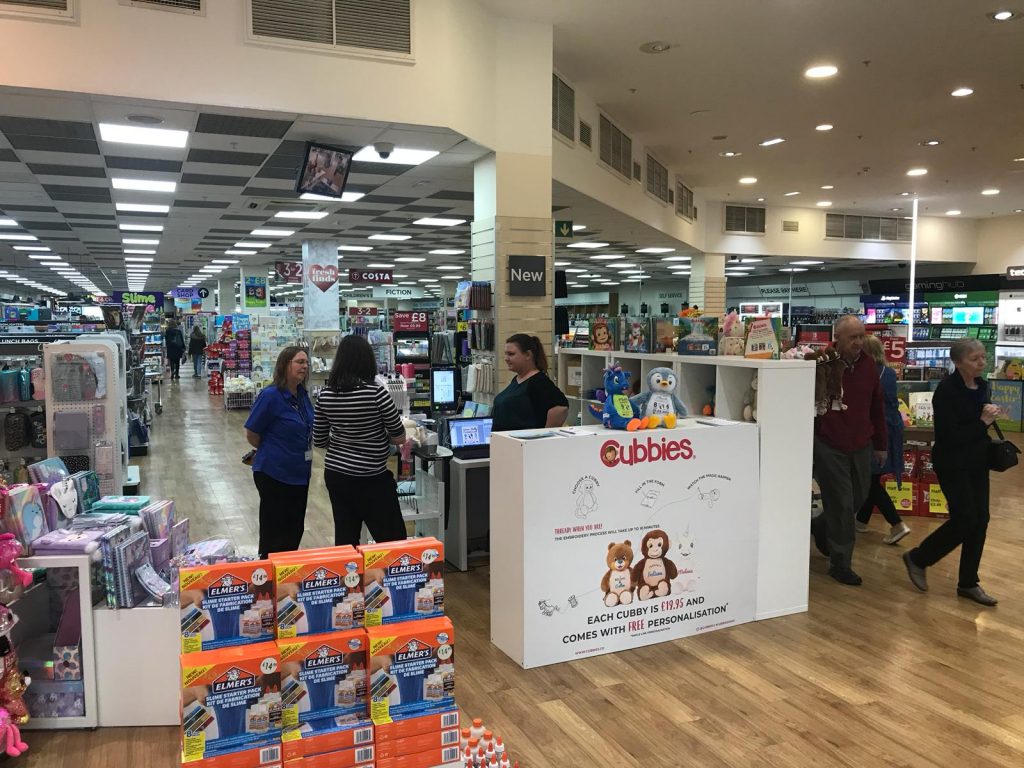 An Exciting Opportunity
Hi folks,
A few of you might have seen a Facebook post we made last month asking if in the Sheffield area would be interested in working in a High Street store over a long weekend. Sadly, no one could make it. I have been trying to set up a partnership with the retail chain WHSmith, where they will have personalisation events tailor made for our Cubbies.
We were in Meadow Hall shopping centre in Sheffield for three days before Easter. The event went well. We were offering a deal where a customer could get one line of free personalisation if they purchased a Cubby for £19.95 and then each additional line would cost £2.50. We were offering Birth Block designs too at £35.  We priced them quite high because it can be time consuming, but realised that was a mistake and the next event we do, we will offer them in the region of £28.
I've been trying for 18 months to get some sort of retail presence. It is too costly to create our own store and first I need to raise the profile of Cubbies so people get recognise the brand.. We have lost many customers over the years because they don't have an avenue to resell them and we are an unknown quantity. If more and more people see what we can offer, this would benefit our Authorised Retailers.
A personalised Cubby is not a typical impulse buy. It is something you see and register in your mind for a later date and then, when the time is right, comes back to you (maybe a newborn or special occasion).
We get orders from our website for Birth Blocks for babies that had been born the day prior, which means people had been waiting for the birth before purchasing one. Imagine if everyone knew that you could go into a high street store and have a birth block embroidered on a teddy in less than thirty minutes. Sales would be fantastic. The demand is there, I just need to find the right channels and routes to market.
I need help – I cannot do this alone. This is where you come in.
Who would like to take their machine(s) and a bunch of your Cubbies down to your nearest WHSmith and set up a small pop up shop (3x2m or similar) on a Saturday or long weekend? I am hoping that we can extend the events that takes place every week for a period of around three months so consumers can get used to what we offer, register it in their mind and come back when the occasion fits.
There are no upfront costs. The retailer takes a large commission for the retail space and sales are processed within the store (in which we invoice at a later date) and I will help with the set up costs and some delivery costs.
We are in the pilot stage. There's no certainty it will work everywhere but I'm keen to try. If you have the time and are looking to expand and increase your sales with Cubbies, please let me know and I can offer more information if you are interested.