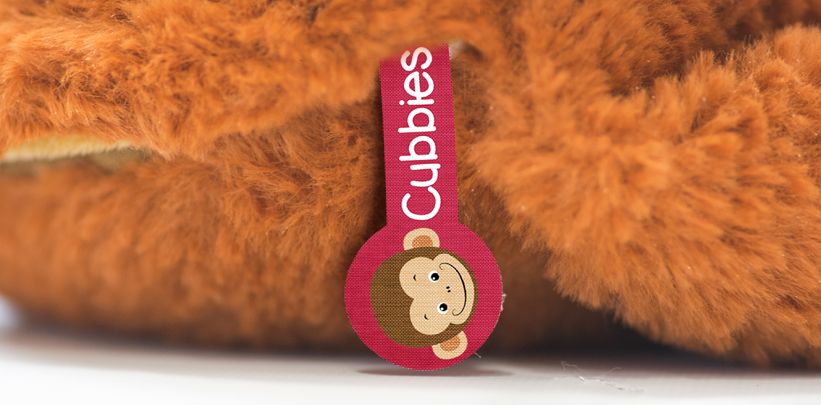 LOOK OUT FOR THE C
At Cubbies we are entirely focused on producing the highest quality products available. To us, even the little things offer us the opportunity to add special details that create the Cubbies Signature Collection…
When sourcing textiles, we travel far and wide (even to some places that don't have wifi) to find the softest fabrics for our Cubbies to make them 100% huggable. Fluffy animals use our specially sourced "rabbit fur" fabric, making them more life-like and giving a truly luxurious feel. We use our shortest pile on the belly patches, giving the smoothest finish and enhancing the embroidery. But it doesn't stop there… Each animal's identifiable features such as hair, tail, ears, teeth, nose, whiskers, and cheeks are taken into careful consideration and the perfect fabric chosen to match. Plus, we often use a range of fabrics to make them more tactile and therefore lend themselves to baby's' sensory development.

Look closely at the Signature Collection and you'll notice their life-like embroidered eyes, but you may not realise the great thought and work that has been put into them. Everything down to the thread colours, shading, shape and placement has been meticulously designed and thought out. Then, finished off with a little, cleverly positioned highlight to bring the Cubby to life. 

Each Cubby's mouth has been thought about in great depth. The three-dimensional mouths have intricate patterns and multiple construction elements, and where an embroidered mouth has been chosen, thoughtful shading and colours have been used. To add more expression, teeth and tongues have been carefully placed. Everything from the size, positioning and fabrics have been meticulously thought through to produce high quality, engaging and characterful products.

All Cubbies need a tail that matches their character. Everything down to the construction, placement, proportion and fabric of each tail is chosen with the greatest care and precision to ensure that each one is truly 'cubtastic'.

Every Cubby starts like this, meaning a Cubby is clearly recognisable. Everything from the arm and leg positioning, to the continuity of the paws, is essential to creating the perfect Cubby. Both the belly patch and the stuffing pod are always a uniform shape and size. Most importantly the pods are always stuffed to achieve optimum cuddlebility, not too full and not too soft, to create the most cuddly teddy bears… We're on upwards of a 'cub-illion' test hugs and counting! :)

Cubbies are characterful and imaginative but making sure they are safe for children of all ages is our number one goal. Each Cubby is made for maximum safety, durability and washability. Every single one has soft embroidered eyes, mouth and branded labels, to ensure safe cuddles are had by all. We've custom manufactured our own zipper pull to prevent any possible choking hazard; where a standard plastic zipper could break off, our woven pull tag offers no danger. Seams are double stitched for enhanced durability and Cubbies have removable stuffing pods making them machine washable, so they can be easily cleaned after every adventure. Most importantly, every single one is fully tested, certified and approved for all ages.
We see even the smallest detail as an opportunity to add that little extra Cubbies character to our products; from whiskers and freckles to tusks, eyebrows and even blushed cheeks. There really is a sprinkle of magic in every single one, and it's these special pinches of imagination and fun that make a true Cubby.