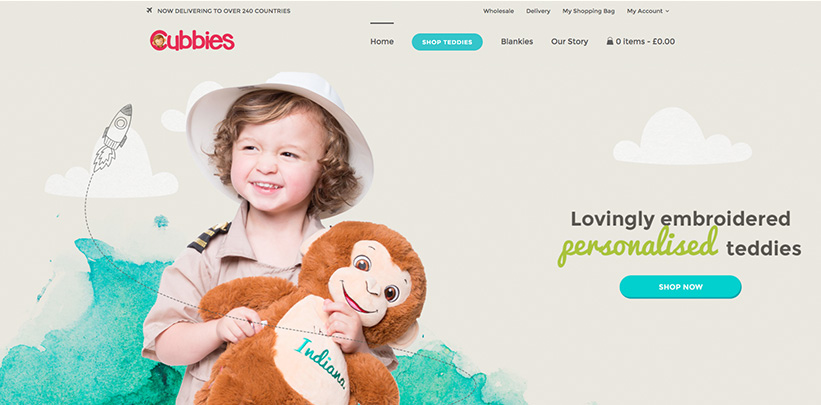 NEW & IMPROVED CUBBIES WEBSITE
Hi my name is Dan and, as part of the Marketing Team, I have designed the new and improved Cubbies website (www.cubbies.co). I hope you like the new design as much as I do! The idea was simple, we wanted to create a colourful and fun website that was easy to use and enabled us to showcase the Cubbies brand to the masses! 
In this blog post I will be explaining a little more behind the strategy to develop the new site and go in to a little more detail about how it will benefit you too.
Wholesale Resources
To start, I must point out that this new website is primarily for consumers to purchase Cubbies products, to help the Cubbies brand grow. Secondly, we are also extensively developing the b2b side for all of you to reap the benefits as well. Our first port of call is to help all of you find what you are looking for easily and quickly; that is why we have built a whole section of the site dedicated to Marketing Resources. Here you can find anything from a single product image, to point of sale material and hints on how to improve your online marketing. This is still in the development stage, so you might not be able to access everything just yet but you will be able to very soon! 
Get Outside Feedback
We did a mini focus group in our building by asking outsiders to go through the website and tell us their thought process. We noticed that when users go on a website for the first time they don't read any text; instead, they look at the pictures and scan for where they assume the action buttons would be.
On the product page, we had a long action button to start the personalisation, above the product description. From the feedback gathered, it became clear that people didn't notice this call to action the first time around as it didn't look or wasn't positioned as they were expecting. Only after scrolling down and then up again did they notice it and take the time to read it. We realised that moving the button to the space next to the price, and changing the words and colour of the tab made a big difference. Now, you don't need to read the text to know that is the button you need to click to proceed. Consumers like to play around and are attracted to visuals; they have less patience to read and educate themselves on the non-essentials.
An ecommerce website is a journey. First, you sell the brand/product/concept, then the user makes a selection, personalises it and finally checks out. The aim is to make this journey as smooth and easy as possible to navigate without needing to read a map.
Questions…
We've already received quite a lot of questions from our wholesalers in regard to the new site, and here are the most common questions so far answered.
"Why Can't I login?"
Currently we are being asked by customers as to why they cannot log in to the website to place an order. Firstly, please remember that this is a b2c website, for consumers to purchase Cubbies at retail price. So, if you try to log in to your account via the top right hand corner 'my account' section you will be unable to. Instead, you can now log in via the footer (very bottom of our website) called 'Wholesale Portal', or by using the button on the wholesale page, or in the right hand column on this blog >

Again, we highly recommend bookmarking this portal once you get to it – this will allow you to log in quickly to our b2b portal where you can place new orders as and when you need!
"Are we going to see a shift in Cubbies from b2b to b2c, with

Cubbies.co

selling direct to consumers?"
No, our plan is to help develop the Cubbies brand so that it benefits our wholesale customers more so than ourselves. By this I'll use an example:  If a customer searches Google for 'Cubbies' then the aim is for our wholesale customers to appear in organic search results, including Google Shopping etc. This is why we ask you to include Cubbies in your product titles and content as it is in your best interests… We've already seen searches for Cubbies related phrases increase 300% in just the last 3 months. Furthermore, we are currently giving all of our b2c orders to wholesale customers, making no profit for ourselves and passing on that profit to you. This is part of the bigger plan to spread the Cubbies brand worldwide and become #1 for personalised teddy bears!
"Why do you want us to push the Cubbies brand but you are now marketing it as 'personalised teddies' on your website?"
It is simple really; the demand online by consumers is for these specific phrases, by driving these customers to our website via Google etc we are providing these consumers with what they are looking for. At the same time, the carefully worded content ensures that these customers know that the website isn't just called Cubbies but the products are too. This is why again, it is in your best interest to push the Cubbies brand to your customers, as soon they too will be searching 'Cubbies' / 'Cubbies teddies' / 'Cubbies Stuffed Animals' etc as well.
Over and Out
I hope I have provided an insight into what our plans are and I would just like to assure you that these changes are in the best interests of our wholesale customers. Next week I will be providing useful hints and tips regarding making small but significant changes to your online and offline stores to help improve usability and in turn sales.
Have a lovely weekend!