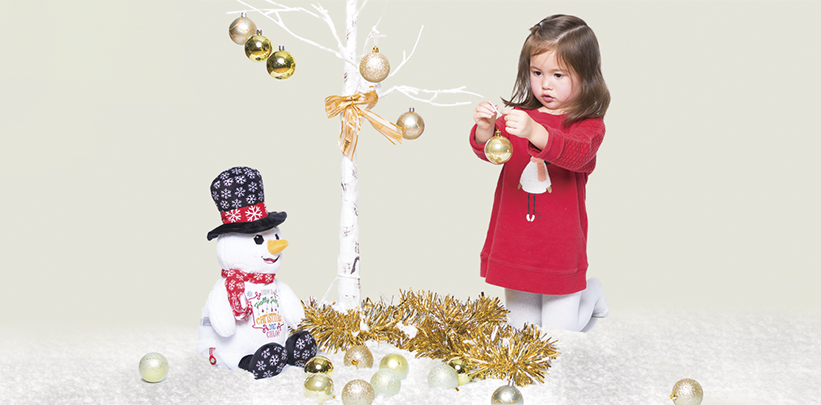 It's the Most Wonderful Time of the Year
It's the most wonderful time of the year…. Christmas! Lights are twinkling, the snow is falling all around and the celebrations have begun. At Cubbies, we decided to celebrate by creating new, fun Christmas teddy, stocking and embroidery designs for everyone to enjoy!
Firstly, we've designed a fantastically festive Reindeer. This brown Christmas Reindeer teddy has cream feet and stomach, two little antlers and a red nose. There are smaller details such as a tuft of hair, furry inner ears and a two-tone tail. To accompany the Reindeer, we introduced a mischievous playmate – Tinsel Toes the elf. This elf teddy  a resemblance to the leprechaun teddy, but with an array of Christmassy features. He is predominantly a Christmassy green, with red and white striped arms and green and white striped legs, finished off perfectly with quirky pointy shoes. Santa's little helper has lovely green eyes, pointy ears, freckles and a cute smile. The Elf's hat is embellished with candy canes and is auburn fringe is visible underneath is pointy hat.
Here are just some of the wonderful new Christmas teddy bears available from Cubbies this Christmas. They are all 12" high and can be personalised with an array of beautiful seasonal embroidery designs. There is a design for everyone, from detailed first and second Christmas messages to a simple Merry Christmas embroidery. Simply add your details to your chosen design and change the fonts and colours to create truly unique festive themed personalised teddy bears. Our embroidery threads for each design have been carefully selected to match our Cubbies.
Of course, the most exciting part of Christmas is the presents, so we instantly thought matching personalised Christmas stockings! The Christmas stockings perfectly match their respective Christmas Cubbies and are a large 18" tall and 8.5" wide, ideal for stuffing full with all those Christmas prezzies. Each one can be personalised with a name in a choice of colours and font styles. My absolute favourite of the stockings is the reindeer. Similar to the Reindeer teddy, he is brown with cream muzzle, antlers and ears and the main colour of the stocking is red. The antlers and tangled fairy lights are appliqued on to the stocking to add an extra dimension to the design and add to the Reindeers cheeky look.
There are 4 stocking designs in total, and each has a loop so that they can be easily hung on display this Christmas day (and out of reach from prying hands). Remember, each stocking has its matching teddy, which go together to make the perfect Christmas gift for children this year.
From all of us at Cubbies we would like to wish you all a wonderful Christmas!